Broadway Dreams Come True at 25th Annual Broadway Flea Market & Grand Auction.
September 23, 2011, 5:00
am
Barbra Streisand is the ultimate performing artist. The winner of two Academy Awards, eight Grammy Awards, five Emmy Awards and a Special Tony Award, she is one of the most beloved and successful entertainers in the world. Now you can have three wonderful items, representing the extraordinary spectrum of her career, signed by Barbra for Broadway Cares specifically to be included in today's Grand Auction.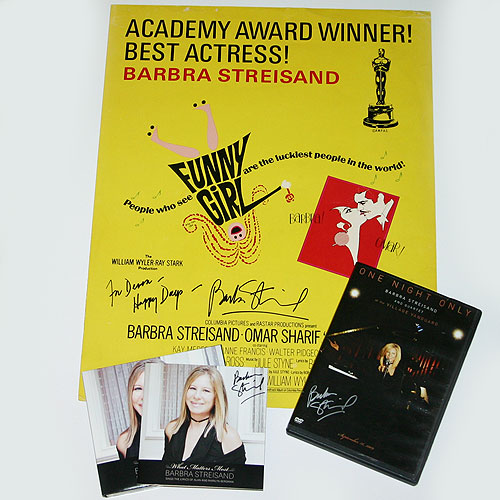 •An extremely rare, original movie card from FUNNY GIRL printed for theatres after Barbra won the Oscar for "Best Actress" in 1968. "Barbra! Omar! People who see FUNNY GIRL are the luckiest people in the world," it reads. Now one-of-a-kind and signed by Barbra.
•The deluxe version of Barbra Streisand's new CD "What Matters Most: Barbra Streisand Sings the Lyrics of Alan and Marilyn Bergman." Debuting at No. 4 on Billboard's Pop Chart, "What Matters Most" is the 31st Barbra Streisand album to chart in the Top 10, passing the Beatles and trailing only Frank Sinatra and The Rolling Stones. Signed for today's auction by Barbra for you.
•The DVD "One Night Only: Barbra Streisand and Quartet at the Village Vanguard." The video of her extraordinary return on September 26, 2009, to the legendary jazz club where she first appeared in 1961. Signed by Barbra for today's auction.
Courtesy of Barbra Streisand and Richard Jay-Alexander
Click here to bid: https://www.biddingforgood.com/auction/item/Item.action?id=142399322
If anyone wants to be connected by phone for the live bidding against the on-line bids, you can e-mail Tom Viola at [email protected] or call Tom on (917) 613-7909.
Best of luck – and happy bidding!